Elect Roofing & Cladding Systems
Benefits of Elect Roofing & Cladding Systems
May be fixed either as single-skin or a twin-skin insulated system
May be laid vertically, horizontally or diagonally
Natural day-lighting is easily incorporated within the system
TATA Colorcoat® pre-finished steel products meet the requirements the Building Regulations Approved Document B for internal and external surfaces
Elect twin-skin systems offer excellent fire and acoustic performance which provide for full compliance with all relevant Building Regulations
Profiled metal roof sheeting and wall cladding have performed on all forms of Irish construction projects for decades and are the material of choice on industrial and commercial development.
EQC Elect range of roof and cladding profiles are supplied with Colorcoat® pre-finished steel by Tata Steel which offers maximum durability and guaranteed performance. The EQC Elect range incorporates both trapezoidal and sinusoidal profiles. The choice of profiles allows for specification on roofing or wall cladding.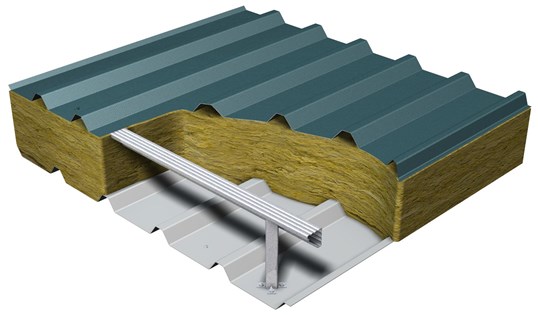 EQC Elect sheeting may be fixed either as single-skin or a twin-skin insulated system.
Elect twin-skin systems offer excellent fire and acoustic performance which provide for full compliance with all relevant Building Regulations. All systems when used as a roof achieve a Grade AA rating in accordance with BS 476-3, which tests for external surface spread of flame and fire penetration (AA is the best result achievable).
The TATA Colorcoat® pre-finished steel products used with the Elect systems meet the requirements the Building Regulations Approved Document B for internal and external surfaces.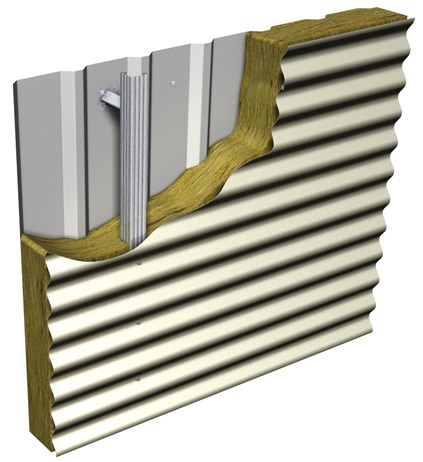 Day lighting may be accommodated by means of in-plane GRP translucent sheeting to match both the external weathering profile and the internal liner sheet.
EQC Elect wall cladding may be laid vertically, horizontally or diagonally. Feature joints may horizontally or diagonally. Feature joints may be incorporated to provide visual definition and be incorporated to provide visual definition and variation. Windows or other penetrations are variation. Windows or other penetrations are easily weathered with bespoke flashings.
Elect Profiled roof systems are typically laid on either steel (hot or cold-rolled) or timber purlins. The systems are best suited for roof pitches greater than 4 degrees. The sheet profile is made up of a series of corrugations, normally in the shape of a trapezium, (referred to as Trapezoidal Profile) which lap together side to side and end to end, making it very easy to cover varying areas of roof quickly. The profile sheets are supplied in a choice of Colorcoat® pre-finished steel by Tata Steel.
Sheets can be used as a single sheet (single-skin) installation or as an external skin to an insulated built-up roof system. Sheet end and side-laps are weather sealed with approved mastic seals. Fixings are located normally through the 'pan' of the profile. Natural day-lighting is easily incorporated within the system, with a choice of rooflights both in-plane and dome type. Specific thermal and acoustic performance system specifications can be supplied.
EQC Elect Roofing & Cladding Systems: in action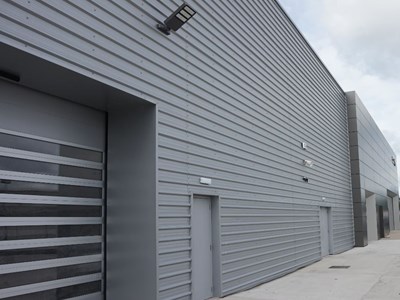 EQC Trapezoidal wall & roof systems are very cost effective, lightweight and suited to a wide variety of applications, including new build and refurbishment, with a broad selection of colours, finishes and profile shapes. For industrial applications, trapezoidal roof & wall systems are particularly ideal, but are also suited to commercial or retail applications.
Download load/span tables (roof profiles)
Download load/span tables (cladding profiles)