EQC Roof Decks offer major benefits with structural and dimensional stability providing opportunity for significant construction cost savings by eliminating the need for roof purlins and the potential for reducing the extent of structural steelwork.
Offering the benefits of wide-span construction, enabling the design of lighter and more economic structures, the EQC Roof Deck range are specified with high performance roof installations typically supporting single-ply membrane or bituminous build-up flat roof systems, green roof systems or EQC Seam standing-seam roof assemblies.
All EQC Roof Decks can be supplied with web perforations to improve acoustic absorption. EQC perforated decking provides excellent sound absorption characteristics and our technical team can provide details of systems tested for both absorption and reduction. We also offer indicative acoustic calculations for the selected roof system.
EQC Roof Decks are supplied to site in made-to-order lengths up to 12 metres. Where long lengths are difficult to handle on site, use of extended end-laps may be considered to achieve required structural performance.
Benefits of EQC Roof Decks
May be utilised as an intrinsic element of complex curved roof shapes, both concave, convex and radial
Manufactured from Tata galvanised steel
Available with a coated face to the underside
All non-perforated decks provide a fire rating of Class 1 to BS476: Part 7 and Class O surface in accordance with Building Regulations Part B (Fire Safety)
Full information is freely available from EQC for architects, engineers and contractors to assist with all aspects of deck application.
EQC can supply load / span tables for each deck profile.
EQC can also provide comprehensive assistance in creating specifications for the decking range to ensure optimum selection for a given application.
EQC Roof Deck profiles are available in a range of galvanised steel gauges from 0.7mm to 1.5mm, with the option of white lining-enamel coating to underside, to order.
Perforated profiles to provide acoustic absorption may also be supplied.
EQC decks in mill or white-coated aluminium material are also available.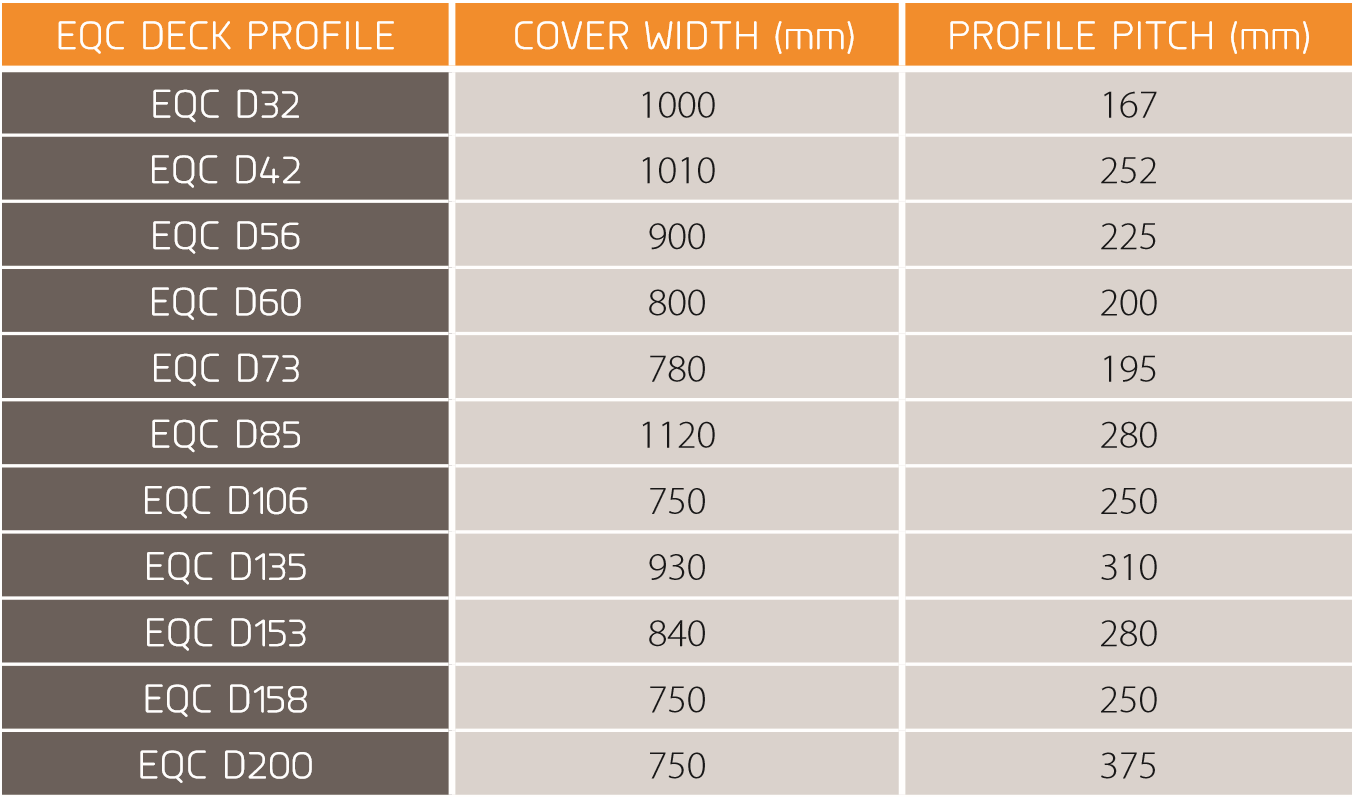 Download load/span tables