Agriculture: farm buildings, sheeting and cladding
Roofing & cladding solutions from EQC Ireland
With our many years working within the agriculture industry, we have both the expertise and specialised roofing and cladding ranges to satisfy the demanding requirements of the farm building sector.
At EQC, we have a long track record of working within the agricultural industry. Our speciality products are designed for farm buildings and are fully compliant with the requirements set down by the Department of Agriculture, and are on their S102 lists of suppliers for roofing, cladding and sheeting.
We can supply a range of sheet profiles to suit your farm building needs - including box (MW5) and corrugated (13.5/3 & 14/3 Spaced). Additionally sheets can be cranked & vented (MW5) and curved & cocktailed (13.5/3 & 14.3 Spaced). Dripstop condensation-control can be applied to sheets and all associated flashings. Gutters are also available on short lead times.
We also specialise in the provision of easy-to-install, low cost and low maintenance pre-finished steel building envelopes. These building envelopes are manufactured off-site into long length cladding systems that can span from ridge to eaves in one sheet, meaning they are flexible in design and easily allow for extensions.
As partners with Tata Steel, we can also provide clients and contractors with comprehensive information on the materials used and provide them with associated lengthy performance guarantees.
Brochures & useful links
Please note, EQC cannot be held responsible for content on external sites.
Agriculture roofing and cladding products
Related agricultural roofing & cladding projects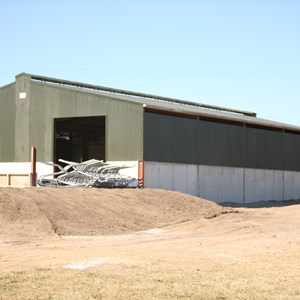 Slatted House Farm Extension, Carlow
Building on an existing unit, our task was to provide suitable metal roof and wall cladding for this slatted house farm extension using Colorfarm® 20 and juniper corrugated metal sheeting.
read more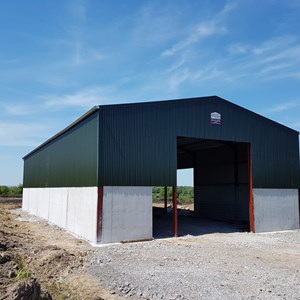 Agricultural Storage Shed, Roscommon
Tasked with providing suitable metal roof and wall cladding for this five bay new build agricultural building designed for dry storage. The farm building features condensation control for the corrugated sheet roofing using Dripstop and other products.
read more