Seamlock® Systems
Warm roof & Cold roof application
Benefits of EQC Seamlock® Systems
Cost effective alternative to traditional metal standing seam systems
Suitable for both roof and wall cladding
May be specified as a cold or warm roof system
Secret fixing resulting in clean attractive finish
Option of factory production or site-rolling to suit project requirements
Curved roof shapes can be accommodated
Excellent acoustic performance with warm roof system
Traditional metal seam roofs date back hundreds of years and use materials like lead, copper and zinc. Specialist skills are required for installation. Sheets will often be formed on-site and the nature of the products means that they are usually bespoke.
This attractive roof finish can be emulated by EQC Seamlock® Systems which are cost-effective, precision manufactured and quick to install.
---

See EQC Seamlock
® Systems

 used in recent projects:
---

More product information

EQC Seamlock® Roof and Wall Systems are a cost effective alternative to traditional lead and zinc roofing. It is relatively simple to install and is available in a variety of metals including pre-finished steel and aluminium.
EQC Seamlock® Systems provide the aesthetic and charm of time honoured materials like lead or zinc and is manufactured by EQC using the latest technology. The system details are simpler therefore making it quicker and easier to install. EQC Seamlock® Systems are also available curved or tapered, making it easy to achieve complicated building shapes. 
The roof is a perfect complement of cost, technology and form. A range of exciting materials, colours and finishes provides a lower cost alternative to traditional systems without compromising colour, quality or finish.
Available as a warm roof or cold roof system, EQC Seamlock® Systems are suitable for use on residential, commercial and public buildings.
Whether it is a traditional look, or a more contemporary or modern finish, EQC Seamlock® Systems can offer the opportunity to turn both into reality.
EQC Seamlock® Systems secret-fix standing seam roof and wall cladding delivers durability, performance and design solutions and is increasingly specified on residential and commercial projects.
EQC Seamlock® Systems standing seam roof and cladding is an innovation from EQC. A sustainable pre-finished metal roofing and cladding system designed for the residential and commercial market. Seamlock is a fully supported standing seam system, designed, manufactured and CE Marked in accordance with BS EN 14783:2013.
Manufactured at our Works in Naas, Co. Kildare, EQC Seamlock® Systems sheeting and accessories are produced to the highest quality and are delivered directly to site.
Looking for a more bespoke and custom standing seam roof system - view our EQC seam product.
Our Seamlock options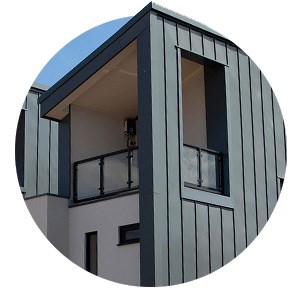 Seamlock®
A cost-effective alternative to traditional metal standing seam systems, EQC Seamlock® is easier to install while still offering the aesthetic and charm of more time honoured materials.
read more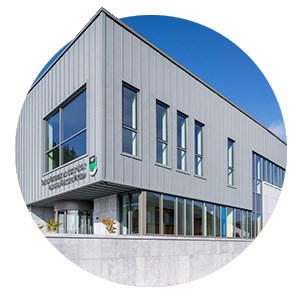 SeamlockZinc®
A proven alternative to traditional zinc standing seam systems, EQC SeamlockZinc® can offer savings on the cost of materials.
read more
Brochures & useful links
Please note, EQC cannot be held responsible for content on external websites.
EQC Seamlock® Systems: in action
EQC Seamlock® Systems gallery
Examples of our attractive cold or warm roof systems in recent projects